AdSense is the typical way to monetize YouTube. It is Google's popular ad network when it comes to ad monetization. Virtually every successful content creator or publisher uses AdSense or at least starts with it. However, this isn't the only way to monetize YouTube and earn passive income. There are several other methods that don't require you to become a YouTube partner and link your AdSense account.
But if we want to talk only about Ads earnings, there is just one alternative and that is an MCN (Multi-Channel Network). Read on to learn how it differs from AdSense or whether or not it is a better option.
What is AdSense and How Does it Work?
AdSense is an ad network that works alongside Google Display Network and Google Ads to create customized PPC ads for visitors to your site based on their tracking/cookie data. In the case of YouTube, these ads are displayed on your channel and every time an ad is viewed you get a percentage of that payment.
What is the Adsense percentage of earnings?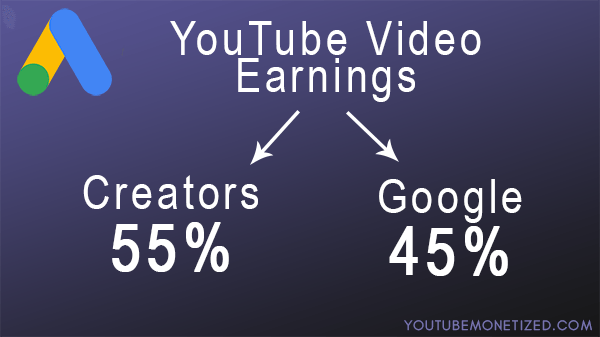 YouTube Adsense share is 55/45, always. This means that there is a 45/55 split for all content creators, where Google keeps 45% of all YouTube advertising on your videos, and you get the remaining 55%.
You will get more of that percentage if someone clicks on an ad link. How much you can make with AdSense really depends on your view rate, click-through rate, and what the advertiser's CPC is.
Google Adsense Pros and Cons for YouTube
Following are some pros and cons of AdSense
Pros
Free and easy to use service.
No need to look for advertisers. Google does it all for you.
You have some control over the types of ad you can display on your channel.
Monthly direct deposit payment by Google as long as you accumulate a minimum of $100 each month.
You always get your balance paid out, also if your channel gets closed.
You get 100% of the net earnings of your channel.
Cons
Not much revenue in the early days.
Less non-skippable ads.
No protection in case of de-monetization.
YouTube doesn't allow you to monetize certain types of videos.
What Are MCNs and How Do They Work?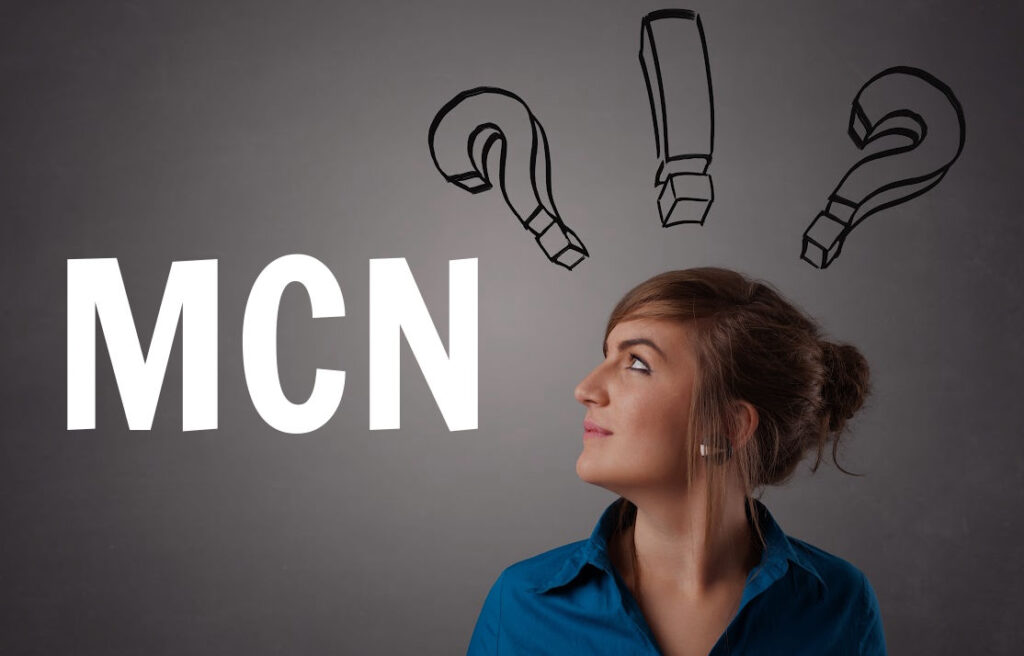 An MCN or multi-channel network is an independent business entity that works with content creators to manage, program, monetize, and grow their YouTube channel. The primary purpose of a multi-channel network is to provide value to your brand and your channel. This can come in a wide range of different forms, from production resources for your videos (funding, studios, equipment, etc.) to design and music assets, and everything in between.
The most popular services include:
Audio libraries subscriptions for free, such as Epidemic Sound and Audiomicro
Community to get in touch with other content creators of the same network
Opportunities to sponsor and reviw products and get an extra comission
Design and graphic assets or services (such as Banner creation)
Dedicated account manager and new marketing opportunities for big YouTube channels
And more, depending on each MCN and its niche!
What is the revenue split for YouTube Networks?
In exchange for these services, they will take a percentage of all the money that your channel makes. This is similar to the way a publisher or record label takes a percentage of your publishing/distribution for investing in your production.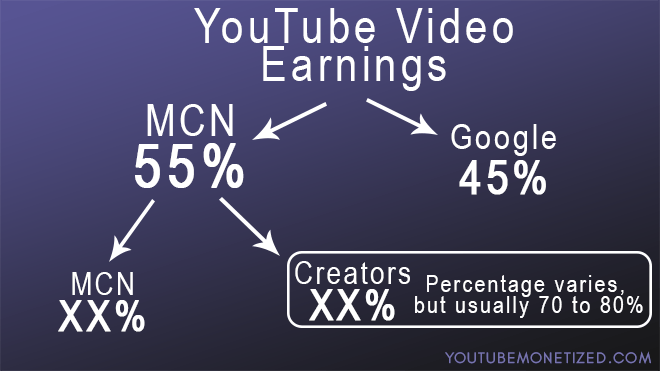 Each MCN offers different perks and services and each MCN has a different share percentage. Usually, bigger channels get a better revenue share than smaller channels. Channels that generate millions of views per month can also get 95% of the net profit.
The default percentage varies from network to network but it's mostly between 70% and 80%.
So, consider that when MCN claim, let's say, 80/20 revenue share it's calculated on the money they receive from Google.
Basically, when you use AdSense Google pays directly you – the channel owner. When you are under an MCN, Google pays the Network and after that, the MCN pays you – the channel owner – depending on your revenue share.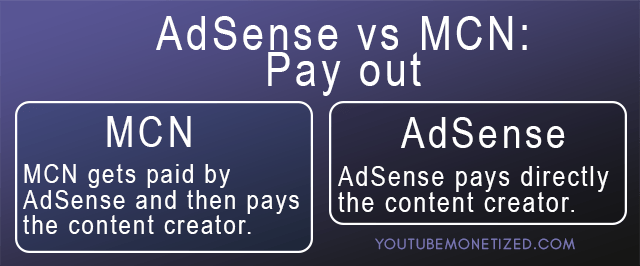 An MCN will never pay a bigger percentage than Google Adsense, even tho in some cases they might have a better CPM because they have deals with advertisers and more ads.
Also read: How to increase your YouTube CPM
YouTube Networks Pros and Cons
Following are some pros and cons of MCNs:
Pros
Copyright claim protection and safety.
Brand access and deals.
Opportunities to collaborate with other YouTubers.
More payment methods with low minimum payout threshold.
Sometimes, royalty free music libraries or design assets
Sometimes, dedicated channel manager for growth
Cons
Long contracts. Some MCNs have longer contracts up to two-year commitment requirement. Make sure to find out if the network you are signing up with has a lock-in contract.
Some creators feel a sense of pressure to cross-promote and collaborate with other channels and creators.
No promises. Multi-channel networks cannot guarantee that their services will improve your channel.
Revenue split.
Conclusion
In conclusion, both AdSense and MCNs have their advantages and disadvantages. Keep in mind that what works for one publisher may not work for another. AdSense could be your highest earning option while MCNs offer you brand access and collaboration opportunities. It is recommended that you do your research and choose a method that best suits your specific needs and preferences.